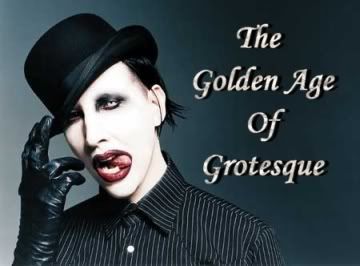 Ok, no more Ms Nice Girl.
In Fact, I think MM is truly brilliant.
Marilyn Manson is the precociously intelligent, only child of Hugh Angus Warner and Barbara J. Warner. Born as Brian Warner, he is an artist who challenges our perceptions as to what makes the visually and auditorially unnusual >> beautiful.
Marilyn is in a continual chameleon state of investigative

aesthetics

. As an artist he challenges traditional societal concepts with his music and persona. His artistic persona is that of the combination of Marilyn Monroe and Charles Manson.
The name Marilyn Manson combines the disparate and discrete concepts of beauty/ugliness and good/evil within the name. "Marilyn" is borrowed from

Marilyn Monroe

, the archetypal beautiful female form and sexual stereotype. "Manson" is borrowed from

Charles Manson

, the archetypal epitome of incarnate evil. What is also interesting about this is that neither Marilyn Monroe nor Charles Manson were their given names either.
The music and persona of Marilyn Manson deliberately questions traditional concepts of:~
love and hate

beauty and ugliness

good and evil

faith and disbelief

fear and acceptance
That is, the band's video clips surgically tear open societal expectations, culture, and superstitions to the light of skeptical enquiry. Here they can be examined, and critically analysed.
The videos are an exploration of the beautiful INHERENT IN the ugly; the exposition of the concepts of flawed beauty; and an investigation into the controversial and confronting attractiveness of "evil".
Can idealised beauty remain beautiful? Or does it become a parody of itself; a weak and ineffectual doppleganger of the concept that was originally sought to be visually encapsulated?
In Marilyn Manson's version of "Tainted Love," it is the investigation into what LOVE really is. Is it still love if it is flawed/tainted? What does it mean logically for something which is supposedly pure to be tainted?

(Shameless segue into Shakespeare: "Love is not love which alters when its alteration finds, or bends with its remover to remove "... etc etc. Sorry, back to the topic minus shameless segue so I could mention Shakespeare.)

So, the major questions posed as a result of this particular video clip are:~
Are our concepts of love flawed?

Does religion encourage/exacerbate these flawed love concepts?
The juxtaposition of the stereotypical, cheerleader character with the macabre, socially unacceptable, politically incorrect Marilyn Manson is confronting and controversial. It becomes an exploration of the fascination with the macabre; a fascination with the "Grotesque Burlesque."
By the time I got to the end of the clip, I was unsure as to which leading character (the cheerleader or Marilyn), was the less macabre. Which just might have been the point. :)
Marilyn Manson's philosphical/artistic comments mimic George Orwell's political comments on the totalitarian state in "1984" where:~
In other words, the ability to hold two "two contradictory beliefs in one's mind simultaneously, and accepting both of them" which Orwell coined as "Doublethink."
(By the way, George Orwell wasn't HIS name either. It was Eric Arthur Blair.)
I would suggest that it is a case of Doublethink, to accept that the concept of "Tainted Love" is a logical proposition.
~
Marilyn Manson should have the last words:~
"The burden of originality is one that most people don't want to accept. They'd rather sit in front of the TV and let that tell them what they're supposed to like, what they're supposed to buy, and what they're supposed to laugh at."

"I view my job as being someone who is supposed to piss people off. I don't want to be just one-of-the-guys. I don't want to be just a smiling face you see on television presenting some vapid kind of easily-digestible garbage."

"I feel like someone who I wouldn't let my own daughter fuck, and I also feel like someone who, if I was that daughter, would want to fuck more that anyone else."

"In the end we're all Jerry Springer Show guests, really, we just haven't been on the show."
LINKS:
Link