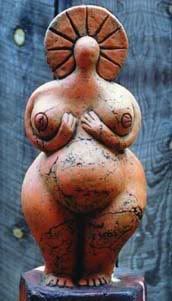 If you are male and of a sensitive disposition,
look away now. G
uess what happened in 1843? A guy named Martin Berry discovered that human conception occurs when the sperm enters the ovum. What?? I hear you say. Yeah, amazing isn't it. Before this time people weren't too sure how babies developed in women. They used to believe that the male contributed ALL the necessary ingredients to create life.
Until 1843 this was considered true until Berry showed that both the male and female each contribute half the material needed to create life.
The ovum (female egg) had been discovered a few years earlier in 1827 by Prussian-Estonian embryologist Dr. Karl Ernst von Baer. So, prior to this there was a lack of knowledge that the female contributed anything to the creation of life except a space to "grow a baby." Male sperm had been discovered in 1677 by a student of Antonij van Leeuwenhoek, but people have always been aware that the male could deposit fluid during ejaculation. They just hadn't seen the wriggly sperm yet. We have only known for a very short period of human history that human conception requires a female egg and male sperm, which goes a long way to explaining why many men in present history couldn't find a clitoris without a detailed map and directions. It goes a long way towards explaining many other aspects of our cultures as well.
I find the historical context of this biological information extremely interesting. I suggest that this lack of knowledge for thousands of years directly influenced many of our modern social/cultural and religious beliefs.
In the dim, dark past of ancient civilizations, women were revered as goddesses. The goddesses were symbolically fertile, representing growth, spring and new life. Some of the ancient neolithic sculptures of "fertility goddesses" traditionally depict a robust, female form with a swollen belly of life. It is of little wonder that birth and renewal of life was seen to be miraculous, mysterious, incomprehensible AND female. The female form was worshipped as the creator of new life. People would pray to their female fertility goddesses to grant them a good harvest, a strong and plentiful herd of animals, and the conditions environmentally which would allow for these abundances. Thousands of different goddess cults were created over the centuries in her honour.
And then, within a relatively short period of time, the goddesses began to be replaced with the worship of male gods. In certain cultures male and female gods were worshipped at the same time in history, but goddesses eventually fell from favour and the onslaught of the male gods began. What caused this noticeable change from goddess worship to god worship? People have always created gods/goddesses to explain what was, to them, the inexplicable and to seek counselling and favour; but why such a noticeable shift from the female to the male? Sometime, in the dim, dark past, (yes, that sort of past again), I think that people began to put two and two together. They began to recognize that women, the revered creators of life, did NOT create life unless they had BEEN WITH A MAN.
It was obvious to most, I guess, that men during sexual climax, ejaculated a fluid. This fluid if deposited inside the female resulted in the creation of a new life. The penny dropped, though not completely accurately. Over a period of time, men began to see THEMSELVES as the creators of life. In fact, as they had evidence of their contribution, (ejaculation), it was not difficult for them to claim that THEY contributed ALL that was necessary for the creation of life.
What does this mean? What it means is that men were able to claim the superior position economically, politically and religiously based upon the evidence of ejaculation and the belief that this ejaculate was solely responsible for the creation of new life. Woman was viewed as "the vessel" or the "soil" in which men deposited "his seed". Her contribution was seen as the carrier of the life which the male created. Women were considered "barren" like lifeless soil if they did not "bear fruit" (conceive); because afterall, there was evidence of male ejaculation. He was doing his part, so it must be that HER body was incapable of producing life, just as barren ground was considered incapable of producing plants.


This helps to explain why during the time that the hebrews were busy writing the "old testament" that the role of women was never going to be considered as important as that of men. Why women for thousands of years were NEVER going to be seen to be as important as men. Why women rarely would be in positions of power, unless that power was primarily at the behest of a close male who already had assumed power.
It also helps to explain the concept of the "miraculous virgin birth". Even though societies saw that the male deposited life into the woman, they remembered back to when they BELIEVED that women could create life without male contribution. This of course, was seen as something quite special but the "virgin mother" could not be given the credit as she was in past times. This would upset the already defined patriarchal hierarchy. Life, if it had NOT been implanted by mortal man, must have been implanted by a supernatural male. That is, one who was capable of creating life without the necessity of existing as a mortal male.
It helps to explain why the jewish covenant with god was a foreskin. Afterall, god must be male as males create life, so what is more appropriate than a bit of penis skin to symbolize this creative life-giving power. (All males who have been ritually circumcised as part of a cultural belief system, may cross their legs at this time.)


It helps to explain why cults developed around penis worship; just as cults had developed previously around the swollen stomach of the pregnant female. It explains why, throughout history, systems of government and religion have been predominately the domain of men.
It helps to explain why ancestry has primarily been traced through the male line. Those kids are all HIS seed. She was ONLY the vessel.
It helps to explain why most religions up to the present day are male dominated political organizations.
In reality, it may only have been about an incorrect premise. The incorrect premise was "penis power". "Penis power" was based on the mistaken belief that the male was SOLELY responsible for the creation of life. The claim that males contained all the ingredients of life in their penis, and therefore THEY were the creators of life, might just be the basis of male dominated culture.
Afterall, the gods MUST be male if males are considered the creators of life. It took until 1843 for a scientist to show that "penis power" and possibly all the human cultural dynamics based upon it, was just an unsupportable claim, lacking in evidence and veracity. But by then, men, who have notoriously short memories anyway, had forgotten how and why they had created their crazy, male gods in the first place. And unfortunately, so had most women.



"All personal, psychological, social, and institutionalized domination on this earth can be traced back to its source: the phallic identities of men." - Andrea Dworkin
Please enjoy this version of "Spiirit In The Sky" brought to you by the goddess Kali :)


god , gods , goddess , goddesses , godess , gods must be crazy , fertility , worship , patriarchy , male god , circumcision , covenant , religion , create , creator
Link