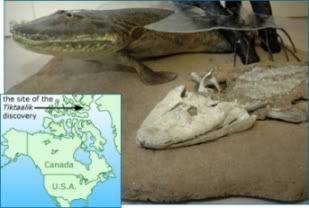 Image from: Understanding Evolution - A reconstruction of Tiktaalik alongside a cast of its fossil, and a map showing where the fossil was found, on Ellesmere Island, Nunavut, Canada.

Tiktaalik, of course. Pronounced tik-TAA-lik, this 375 million year old fossil splashed across headlines as soon as its discovery was announced in April of 2006. Unearthed in Arctic Canada by a team of researchers led by Neil Shubin, Edward Daeschler, and Farish Jenkins, Tiktaalik is technically a fish, complete with scales and gills — but it has the flattened head of a crocodile and unusual fins. Its fins have thin ray bones for paddling like most fishes', but they also have sturdy interior bones that would have allowed Tiktaalik to prop itself up in shallow water and use its limbs for support as most four-legged animals do. Those fins and a suite of other characteristics set Tiktaalik apart as something special; it has a combination of features that show the evolutionary transition between swimming fish and their descendents, the four-legged vertebrates — a clade which includes amphibians, dinosaurs, birds, mammals, and of course, humans.

Read more here.

LINKS:
Paleontologists at the University of Chicago have discovered a fossil fish that is transitional fossil between fish and land vertebrates.



University of Chicago fossil preparator, Tyler Keillor, discusses the iterative process of creating the model for Tiktaalik, the fossil discovery by paleontologist Neil Shubin that fills in the evolutionary gap between fish and land animals.
Tiktaalik
,
evolution
,
transition
,
transitional fossil
,
fossils
,
Paleontology
,
natural selection
,
youtube
"You ever noticed how people who believe in Creationism look really unevolved? You ever noticed that? Eyes real close together, eyebrow ridges, big furry hands and feet. "I believe God created me in one day" Yeah, looks like He rushed it." - Bill Hicks

Link