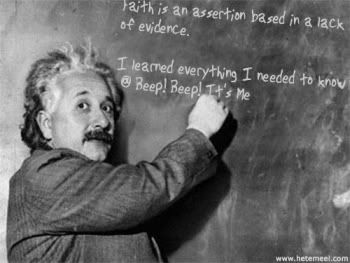 "Gotta Have Faith" - by AC Grayling
The repetition this week of the weary old canard that atheism is 'a faith proposition' shows that our archbishops need a lesson in semantics.
This is classified in logic as an "informal fallacy" known as a
"tu quoque" argument
. We understand that the faithful live in an inspissated gloaming of incense and obfuscation, through the swirls of which it is hard to see anything clearly, so a simple lesson in semantics might help to clear the air for them on the meanings of "
secular
", "
humanist
" and "
atheist
". Once they have succeeded in understanding these terms they will grasp that none of them imply "
faith
" in anything, and that it is not possible to be a "
fundamentalist
" with respect to any of them.
~*~
"Faith is believing what you know ain't so." - Mark Twain
Faith No More - "Epic"

fundamentalism , faith , atheist , atheism , informal fallacy , humanism , fundamentalism , mark twain , A C Grayling
Link