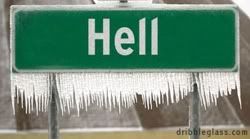 Assorted Non - Believers, Wiccans, Pagans, Shintoists, Sikhs, Jainists - All going to hell.

Atheists - For not believing in god. This illustrious list includes people such as: Richard Dawkins, Woody Allen, Lance Armstrong, Isaac Asimov, Richard Branson, Katharine Hepburn, James Randi and Bill Gates. Just to mention a few. Ok. Bill Gates I can understand. He deserves it because of microsoft.

Aztecs, Mayans, Arawaks, Native Americans, South Pacific Islanders, etc – Some of these people practiced cannibalism like Jeffrey Dahmer but didn't accept Jesus so we know where they are going. Christians killed a lot of them because they didn't believe in Jesus so god seems to be fucking them over twice.

Buddhists - Buddha once said that life is suffering. This practice will come in handy while burning in hell.

Confucianists - For providing a system of ethics that doesn't require a supernatural deity. Welcome to hell for about 6 million chinese.

Daoists and Taoists - Taoism is not a religion, nor a philosophy. It is a "Way" of life. It is a River. The Tao is the natural order of things. It is a force that flows through every living and sentient object, as well as through the entire universe. Sounds too much like pantheism. Welcome to hell for preaching about a life of balance being perfect happiness.

Deists and Pantheists - You people are way too passive and inclusive. Everything is divine. Hope you find hell divine.

Greeks - Raping, plundering, murdering, and drinking to excess. And I am talking about their gods! Looks like they are headed to deep in the bowels of Hades!

Hindus - Holy cows but no holy spirit. Straight to hell! Now that the Buddhists and Hindus are in hell, we easily outnumber the people in heaven several times over. Do you think we aren't going to invade?

Jehovah Witnesses, Mormons and any other cult that turns up at my door on Sunday morning.

Jews - Christians would say that the Jews were on the right path until they kind of killed the Messiah. Oy.

Jews for Jesus - Isn't this a contradiction. I vote they go to hell for hedging their bets.

Neanderthals and Early Hominids – There is some evidence that they may have believed in an afterlife but since they don't even get a mention on the bible I think it is safe to assume we will see them in hell.



Scientologists - Tom Cruise, John Travolta and assorted Dianetic Devotees.

Sumerians- The oldest civilization. They worshipped gods such as An and Nammu, but no Yahweh. Welcome to hell Sargon.

Zoroastrianism - One of the earliest known monotheistic religions. Close but no cigar. Straight to hell spoke Zarathustra.


Now that we have the list sorted, who is bringing the gin and tonics and the mah jong?
"Go to Heaven for the climate, Hell for the company." Mark Twain

Other Links:


Link