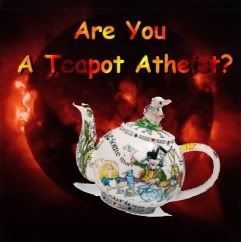 TRANSCRIPT:
Science can't disprove the existence of god but that does not mean that god exists. There are a million things we can't disprove. The philosopher Bertrand Russell had an analogy. Imagine there's a china teapot in orbit around the sun. You cannot disprove the existence of the teapot because its too small to be spotted by our telescopes. No one but a lunatic would say, "Well, I'm prepared to believe in the teapot 'cause I can't disprove it." Maybe we have to be technically and strictly agnostic, but in practice we are all teapot atheists.
But suppose that everybody in the society, the teachers, the tribal elders all had faith in the teapot. Stories of the teapot have been handed down for generations. It's part of the traditions of the societies, there are holy books about the teapot. Then, someone who said that they did not believe in the teapot, might be regarded as eccentric or even mad.
There's an infinte number of things like celestial teapots that we can't disprove. There are fairies. There are unicorns. Hobgoblins. We can't disprove any of those, but we don't believe in them anymore than nowadays we believe in Thor, Amon-Ra, or Aphrodite. We are all atheists about most of the gods that societies have ever believed in. Some of us, just go one god further.
LINKS:
"Take some more tea," the March Hare said to Alice very earnestly. "I've had nothing yet," Alice replied in an offended tone, "so I can't take more." ~Lewis Carroll, Alice in Wonderland
The Mad Hatter's "Unbirthday Teaparty"

teapot , teapot atheists , atheist , agnostic , youtube , bertrand russell , richard dawkins , beepbeepitsme
Link